Fox News presenters mock female pilot who took part in campaign against Isis | Media | The Guardian.
Presenters on US cable channel Fox News cracked a series of sexist jokes after reporting that a female pilot from the UAE had taken part in a bombing mission of Isis targets in Syria, describing her as "boobs on the ground".
One presenter, Kimberly Guilfoyle, tried to pay tribute to Major Mariam al-Mansouri, 35, one of four UAE fighter pilots to take part in the operation. "Hey, Isis, you were bombed by a woman," she said. "Very exciting, a woman doing this … I hope that hurt extra bad because in some Arab countries women can't even drive."
She continued: "Major Mariam al-Mansouri is who did this. Remarkable, very excited. I wish it was an American pilot. I'll take a woman doing this any day to them."
But after the segment, co-host Greg Gutfeld interrupted Guilfoyle, mocking the pilot. "The problem is after she bombed it she couldn't park it," he said. Another presenter, Eric Bolling, joined in, asking: "Would that be considered boobs on the ground or no?" The conversation between panellists, which was broadcast on Wednesday, was part of discussion show The Five on Fox News.
Embarrassed, Guilfoyle hung her head, saying: "Oh my gosh, why did they ruin my thing?" Another voice was heard afterwards saying: "Did you just say what I thought you said?"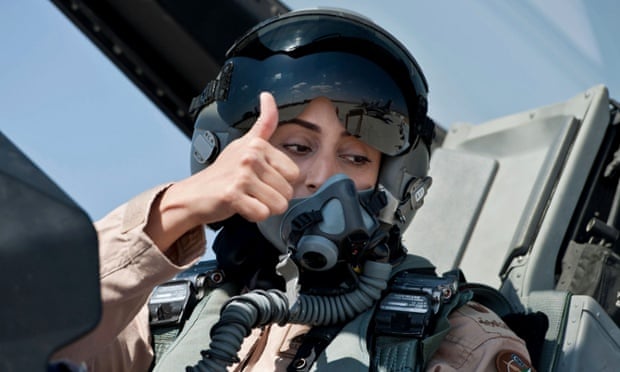 Mansouri, who is from Abu Dhabi, graduated from the UAE air force academy in 2008 after becoming one of the first women to join after it scrapped its ban on women.
Speaking to the National of UAE, she said: "It was my aspiration. Ever since I finished high school, I wanted to learn flying because it was something that I liked in the first place.
"A woman's passion about something will lead her to achieving what she aspires and that's why she should pursue her interests."
Mansouri told CNN this summer: "I put my mind to being a fighter pilot. But at that time, the doors were not open for females to be pilots, so I had to wait almost 10 years.
"Whenever a woman enters a new male-dominated field, they find the same hesitation, the same prejudice, the same stereotype thinking.
"And I had to prove myself by just being determined and having that skill and the knowledge enough to prove that I can perform as skilfully as the men in this field."
Category: Commentary